eXware 707 AI
FUTURE PRODUCT
Industrial Edge Device, Intel Atom® x6000E Series, 2 to 6 Ports Gigabit Ethernet, JMobile runtime
eXware707AI is a rugged and compact device designed as a EXOR Edge AI solution. eXware700AI Series products combine state-of-the-art connectivity features and top performance. Ideal for computation-intensive edge applications where Corvina Edge Field Analytic and Machine Learning are requirements, as well as factory orchestration of microservice architecture, virtualized edge logic (PLC) and edge visualization.
Information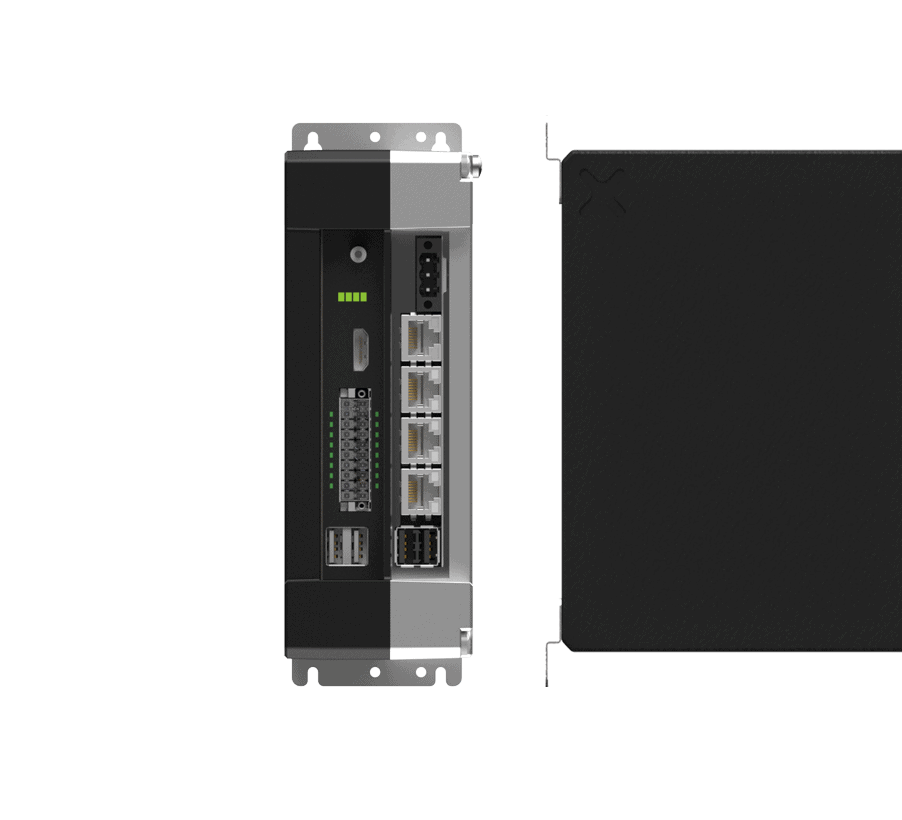 Edge AI Computing
DP++ Video Output (2 Optional)
Intel Atom® x6000E Series up to 1,90 GHz Quad Core
2 Ports Gigabit Ethernet, optional up to 6 Gigabit Ethernet
2 USB 3.1 gen 1 ports, optional 2 USB 2.0 ports
3 Plug-in modules for system expansion
Virtualization / Docker Container
Intel® UHD Graphics, up to 500 Mhz base frequency, up to
800 Mhz burst frequency 16 execution unit
Vision and AI FPGA accelerator
Fanless passive cooling design - Alluminiun housing
Products have been designed as IoT edge devices with the combination of a powerful controller with networking capability and outstanding communication options including client/server OPC UA. They are the ideal choice for all demanding IoT edge applications in factory, marine and building automation. eXware700AI Series products have been designed to run the JMobile software.
JMobile runtime included
Supports Corvina Platform secure connectivity with full network separation
OPC UA Server and Client
Optional CODESYS V3 runtime with choice of EtherCAT, Profinet, Ethernet IP and Powerlink
Optional Support AI Accelerator Version