Food & Pharma
EXOR's HMI for Food, Beverage, and Pharma ensures IP69 protection, stainless steel build, jet-wash endurance, and seamless X Platform integration.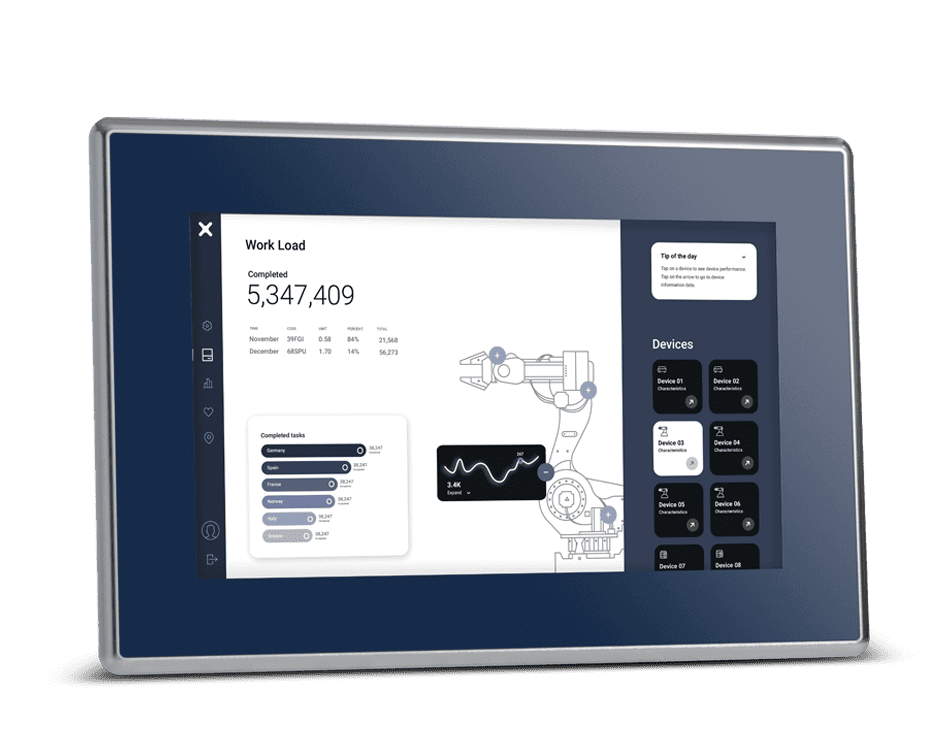 Why use specialized HMIs?
In industries like Food, Beverage, and Pharmaceutical, the production environment demands equipment that's not only reliable but also complies with stringent hygiene standards. EXOR's specialized HMI is designed precisely to meet these challenges. Built with stainless steel, it is inherently resistant to the corrosive effects of frequent cleaning agents.
The IP69 rating ensures it can withstand high-pressure jet washing, a common cleaning method in these sectors. Beyond just durability, the ability to integrate seamlessly into the Industrial Automation X Platform offers unparalleled operational synergy. It means real-time data access, swift decision-making, and consistent production quality.
With such an HMI, machine builders cater to clients who prioritize hygiene, accuracy, and efficiency, ensuring their machinery operates at peak performance without compromising safety or cleanliness standards.
What is the right product for you?
Key features

IP69 Protection Class

Product Customization Available

Excellent worldwide tech support provided
Key Differentiators
Competitive Differentiator
Derived Benefit
IP69 Protection
Ensures the HMI can handle high-pressure, high-temperature water jets, guaranteeing resilience in rigorous cleaning processes.
Stainless Steel Construction
Corrosion-resistant build ensures longevity even when exposed to aggressive cleaning agents, guaranteeing extended service life.
Jet-wash Endurance
Specifically designed to endure frequent high-pressure cleaning, maintaining performance even in demanding cleaning cycles.
Seamless X Platform Integration
Enables real-time data processing and system synchronization, optimizing production flow and enhancing efficiency.
Industry-Specific Design
Catering to the unique requirements of Food, Beverage, and Pharmaceutical sectors, ensuring operational excellence and compliance.