Revolutionary Software for Industrial Edge Visualization
With JMobile's user-friendly software suite, you can seamlessly manage connectivity from edge to cloud, device operations, process management, and data visualization. This comprehensive solution is essential for all levels of edge to cloud integration in any Industrial IoT platform architecture.
The Only Industrial Edge Visualization Software Solution You'll Ever Need
Appeal and brand recognition are taking on a pivotal role in HMI pages.
JMobile 4.5 brings you an updated and modern widget gallery that caters to the most cutting-edge and innovative graphic design needs.
Powered by SVG technology and fully customizable, the widget gallery now introduces a revolutionary search system for effortless programming.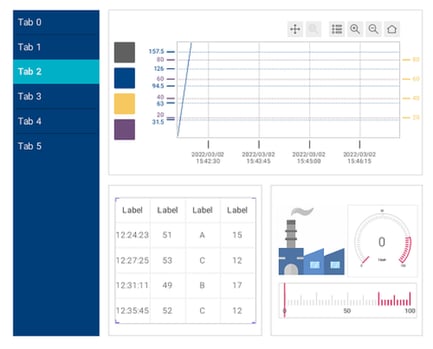 JM4Web is the seamless connection between Industrial control applications and ubiquitous mobile devices such as smart phones and tablets. Developed ahead of the market's vision in 2010 and continuously updated ever since using the very same guiding principles for JMobile, it now provides the most comprehensive Pure Web Technology available.
With HTML5 and Javascript technology embedded in JMobile, all that is needed to remotely monitor and control applications is a web browser with HTML5 support: Firefox, Chrome, Safari and Microsoft EDGE. No "apps" needed when operating from mobile devices, hence reducing the risk of compatibility across various operating systems.
With JM4web you can have instant Web access to JMobile applications via the integrated Web server included in all JMobile runtime systems.
JM4web allows for creating the exact responsive user experience for the target mobile device. The Web server will detect the resolution of the connected client device and serve the appropriate pages.
JM4web is the ideal complement to the powerful remote connectivity and visualization tools already available in JMobile.
Dashboard pages with responsive design
Now possible to define grid based layout pages where the content is automatically resizing to give the best experience on any display size. Web ready and fully customizable, this new feature puts the bases for a new and modern way to design HMI applications.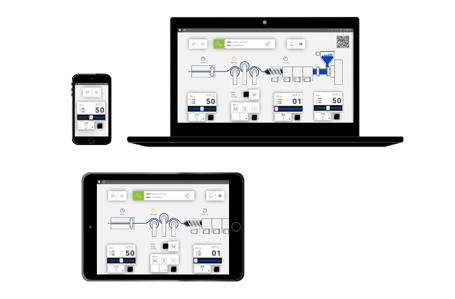 Choose your Visualization Interface
JMobile Webinar On Demand
Watch the on demand Webinar JMobile Basic Features. It lasts twenty-five minutes and yet only touches the surface of what this Industrial IoT software can achieve.
Are you looking for an Industrial IoT Software?
Download the complete JMobile Suite and Collaterals