Revolutionizing Protocol Conversion
Transforming Operations with Enhanced Data Sharing
Maximizing Operational Efficiency through Data Sharing
EXOR products enable seamless communication between your machines, regardless of their age or complexity. Our devices are equipped with communication drivers for all major brands of controllers, allowing for easy routing and exchange of key data with the systems in your facility. This optimization of operations and production speed is essential for achieving optimal performance.
By installing drivers specific to each controller, eXware and the pther EXOR products can convert data from one network into the protocols of the destination network, ensuring efficient navigation. Additionally, eXware fully supports OPC UA, a secure communication protocol that facilitates the connection between ERP systems, analytic tools, databases, and other enterprise systems, enabling real-world data exchange between controllers and devices. Enhance overall operational performance by adding intelligent functions that optimize efficiency.
Drivers for all major brands
With eXware's extensive collection of over 75 PLC driver families from leading controller brands, you gain unprecedented access to the concealed data within your machines or facility.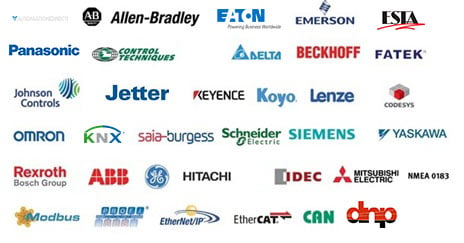 Enhance your solutions with advanced capabilities
Expand the possibilities of your applications by integrating additional smart functions. With the ability to incorporate features like local database storage, alarm servers, data exchange, reporting, and even

JavaScript

scripting, you have the flexibility to achieve your desired outcomes. These smart functions can be easily configured using the JMobile software, providing you with a seamless and efficient way to optimize your solutions. Unlock the full potential of your operations and take control of your success.
MQTT (MQ Telemetry Transport) is the publish/subscribe protocol designed for constrained devices and low-bandwidth, high-latency networks. It is a common protocol used for light load IIoT communication.
JMobile comes with an efficient implementation that seamlessly connects to any MQTT broker, including those offered by providers such as Amazon, Exosite, IBM, Microsoft. The MQTT protocol has been built-in to JMobile runtime as a service with full data gateway capability. JMobile 4.5 now permits to interface Tags to MQTT connections and parameters to maximize the integration with HMI project. You can easily configure automatic data push from field devices to the cloud. Data security is enforced by the use of TLS and X509 certificates.
Seamlessly integrate with ERP systems, analytics, and more.
Unlock the potential of your data with eXware's support for OPC UA, a secure communication protocol designed to seamlessly connect ERP systems, analytic tools, databases, and other enterprise systems with real-world data from controllers and devices. OPC UA ensures a secure, open, and reliable mechanism for transferring information between servers and clients, empowering you to optimize your operations with ease.
Talk to Sales
Please fill in the form and an EXOR International representative will contact you to discuss the purchase of JMobile.
This discussion may also cover any associated need you or your company might have in industrial hardware or IoT Platform.