eSMART107B combines top performance with a compact design.

The product is fully compatible with JMobile runtime, including OPC UA Server and Client. It is also an open RT Linux platform for running own IoT software applications.

Moreover, this product can be optimized as a platform for the Chromium browser, while retaining compatibility with the eSMART family of HMI devices.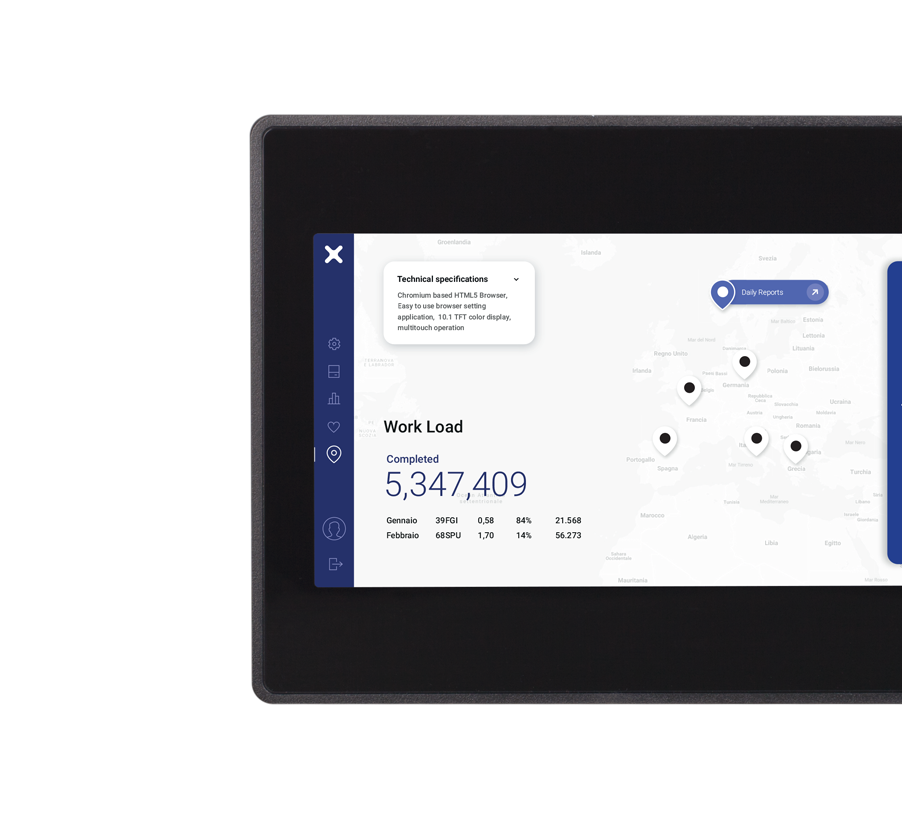 Overview
The eSMART series of products combine the power of JMobile – the software inside X Platform with an outstandingly robust design.With very specific applications in mind we have stripped down the eSMART to only the essential components and have created a truly class leading product.
Stripped down does not mean that the product is not robust. In fact it maintains a IP66 protection rating for the front of the unit and is certified to a level not seen in the low cost sector worldwide, allowing use in the most hazardous of environments.
Stripped down does not mean a cheap looking ugly product. The eSMART series is without doubt the most elegant in its class. No other fully plastic housed product can match the eSMART quality.
Stripped down does not mean reduction in high level functionality. Although the display is not at the incredible real life level of the eX700 series, the unique connectivity ability of JMobile – the software inside X Platform, allows the eSMART to communicate with a vast library of critical protocols as well as OPC UA standard and pub/sub server and client.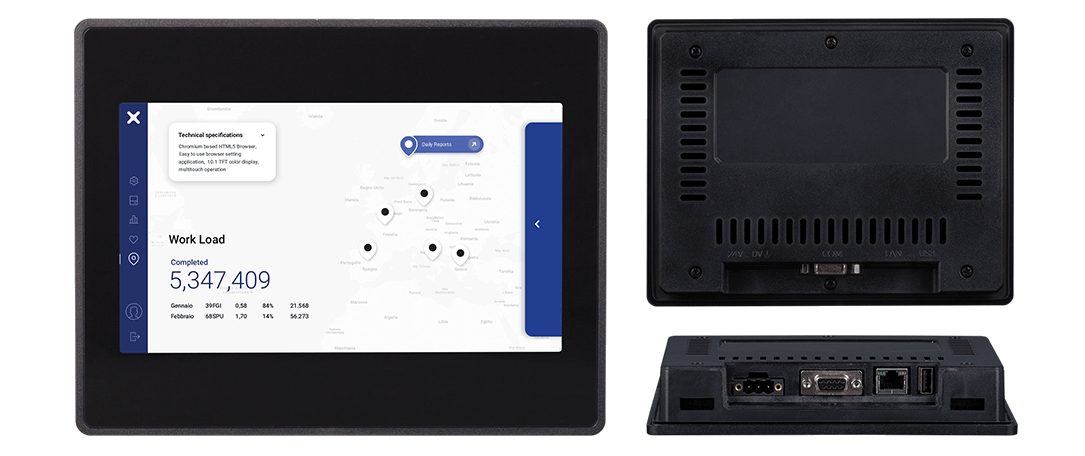 Stripped Down for pure browser use
OS Linux RT
HW and FW Optimised for Extremely Fast Operation
Supports HTML5 and JS
Resistive Touchscreen
Powerful CPU
High Memory Resources
Extended voltage range 10-32 Vdc
OPC UA Server and Client
Vast Library of Protocols
Extremely Robust Design
Accessories
System Resources
Display - Colors
7" TFT 16:9 - 64K
Resolution
800x480, WVGA
Brightness
200 Cd/m2 typ.
Dimming
to 0%
Touchscreen
Resistive
CPU
32-bit RISC dual core - 800 MHz
Operating System
Linux RT
Flash
4 GB
RAM
1 GB
RTC, RTC Back-up, Buzzer
Yes, Yes, No
Interface
Ethernet port
1 (port 0 - 10/100)
USB port
1 (Host V2.0, max. 100 mA)
Ratings
Power supply
24 Vdc (10 to 32 Vdc)
Current Consumption
0.3 A at 24 Vdc (max.)
Input Protection
Electronic
Battery
Rechargeable battery, not user-replaceable
Environment Conditions
Operating Temp
0 to +50°C (vertical installation)
Storage Temp
-20°C to +70°C
Operating / Storage Humidity
5-85% RH, non condensing
Protection Class
IP66 (front); IP20 (rear) Type: 2, 4X
Dimensions and Weights
Faceplate LxH
187x147 mm (7.36x5.79")
Cutout AxB
176x136 mm (6.93x5.35")
Depth D+T
29+5 mm (1.14+0.19")
Weight
0.875 Kg
Approvals
CE
Electromagnetic Compatibility Directive 2014/30/EU (EMC)
UL
cULus: UL508
RCM
Yes
Part Number and Description
+ESMA107BU301
HMI 7" Resistive touch, 4 GB Flash memory, 1x Ethernet, JMobile runtime