eXtreme Series
In even the most extreme and inhospitable locations, the EXOR HMI series for extreme environments has brought the convenience and benefits of IoT platforms right where they are needed. Since 2011, our outdoor HMI series has been the go-to choice for customers operating in challenging environments where reliable operation and operator safety are essential.
With our latest eXtreme series, you can take full advantage of EXOR devices even in the harshest of situations. What sets this series apart is the combination of highly robust hardware, specifically designed for outdoor use, and an incredibly flexible JMobile software that makes operating the HMI an effortless experience, which is crucial in harsh environmental conditions.
These HMIs easily connect to a broad range of networks and protocols, and their compatibility with every feature available in the JMobile platform allows them to be seamlessly integrated into existing architectures.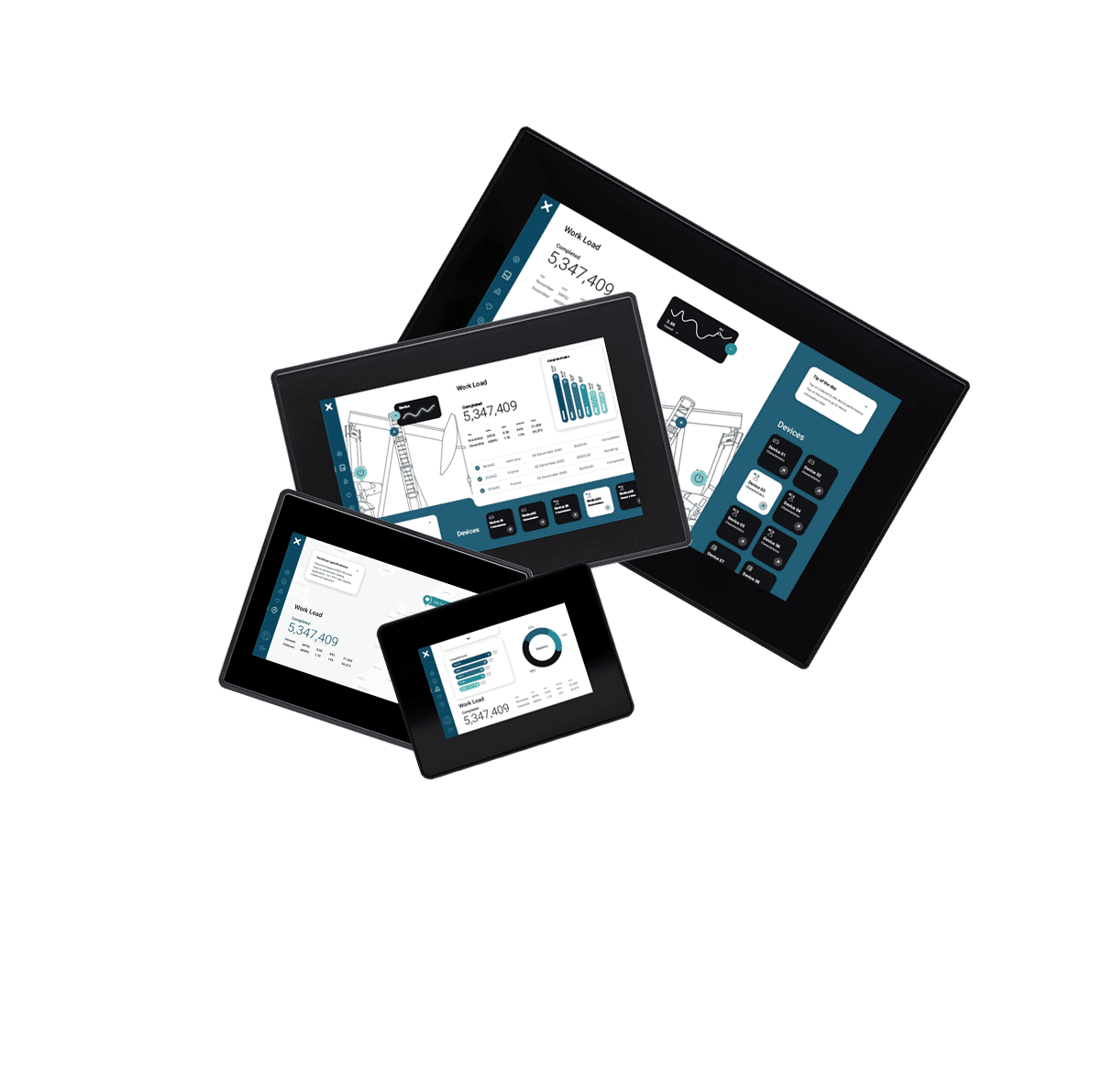 Brilliant Displays Readable in Full Sunlight, Touchscreens with optical bonding
Fewer accidents as well as increased efficiency. Optical bonding improves light transmission and helps improving the contrast ratio and therefore the readability under all conditions of illumination.
Extremely Wide Temperature Range
The EXOR Outdoor HMIs offer an extended temperature range for operation in very harsh environments.
Ample coverage of approvals
The EXOR Outdoor HMIs are certified with IECEx Zone 2/22, ATEX Zone 2/22, cULus, cULus Hazardous Locations and DNV for marine environments
Dedicated HMI hardware for various sectors
Specific needs of certain sectors can be satisfied with the wide range of specialised HMI design.
What is the right product for you?
Key features
Benefits
Multiple certifications and Features
Extreme HMI series has particular features like the brilliant displays readable in full sunlight, touchscreens with optical bonding and multiple certifications IECEX Zone 2/22, ATEX Zone 2/22, UL cULus Class I Div. 2, DNV GL, EU MR, opening dramatically the range of possible applications in industrial, marine and harsh environments.
Runs the World's Most intuitively powerful Software and Cloud
The native JMobile visualization and connectivity software is built by EXOR to perfectly compliment the hardware and firmware of the device, thus allowing for optimal performance. It allows engineers to create easy to use applications without a background in programming. Moreover CORVINA, our industrial IoT Cloud-based Platform is designed specifically for businesses looking to take advantage of the latest digital technologies to grow and improve their operations.