eX700M Series
eX700M products give a performance boost to the successful eX700 series and confirm the unique selling points and benefits of the eX700 series: multitouch display and robust glass front, 3 Ethernet ports and expandability with plug-in modules, full range of certifications for extreme working environments, maritime and industrial, ready for installation of CODESYS PLC runtime software with a full selection of network stacks for I/O.
The power of eX700M is the best way to exploit the new graphical and security features in JMobile 4.5, in addition to the outstanding communication features such as OPC UA Client/Server and MQTT.
eX700M is the ideal choice for the most demanding IIoT edge applications in factory, marine and building automation where powerful and performing HMI is needed for installation as close as possible to human operators.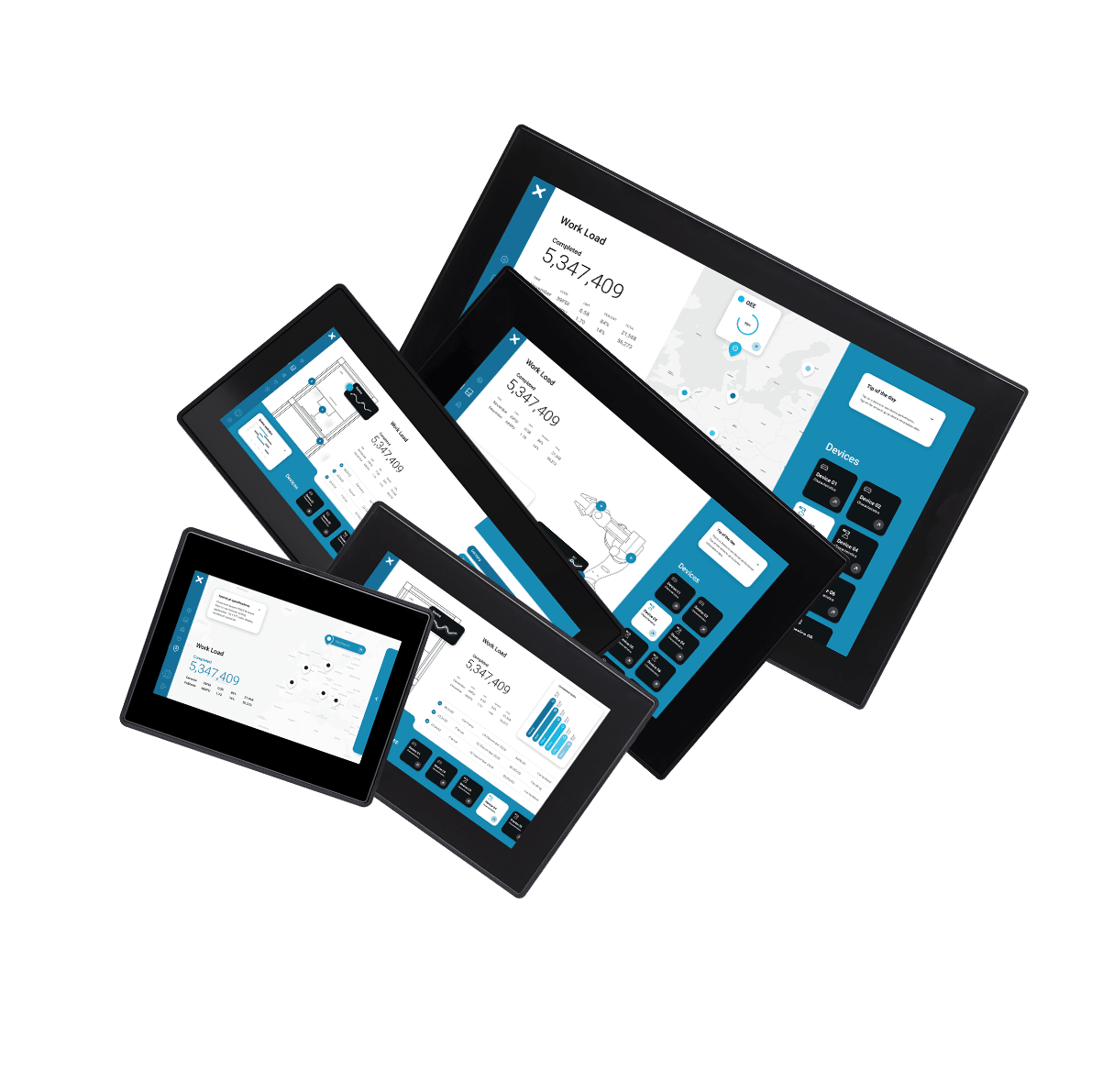 High Performance
High Resolution Glass Cap Touch, Fully Connectable upstream/downstream, Powerful Integrated PLC with all the major protocols, Integrated VPN with Service Cloud
Rugged HMIs
Resistant to Scratches, UV and Chemicals, IP66 Protection Class
Multiple Certifications
Such as IECEX Zone 2/22, ATEX Zone 2/22, UL cULus: Class I Div. 2, DNV GL, EU MR, possible applications in industry, marine and harsh environments
Easy to use
All-in-one industrial automation solution ready for scalable applications across many sectors
What is the right product for you?
Key features
Benefits
Runs the World's Most intuitively powerful Software and Cloud
The native JMobile visualization and connectivity software is built by EXOR to perfectly compliment the hardware and firmware of the device, thus allowing for optimal performance. It allows engineers to create easy to use applications without a background in programming. Moreover CORVINA, our industrial IoT Cloud-based Platform is designed specifically for businesses looking to take advantage of the latest digital technologies to grow and improve their operations.