The WEB HMI eX710M by EXOR International is the ideal choice for all demanding IoT edge applications in factory, marine and building automation where powerful and performing HTML5 web browser is needed.
The eX710M offers a revolutionary UI, unlike anything seen in the industrial sector and combine state-of-the-art connectivity features and top web browsing performance in a great designed and robust HMI. HTML5 web application interfaces are used to display and interact with real time data. As a Web HMI, eX710M can easily display HTML5 data from multiple devices.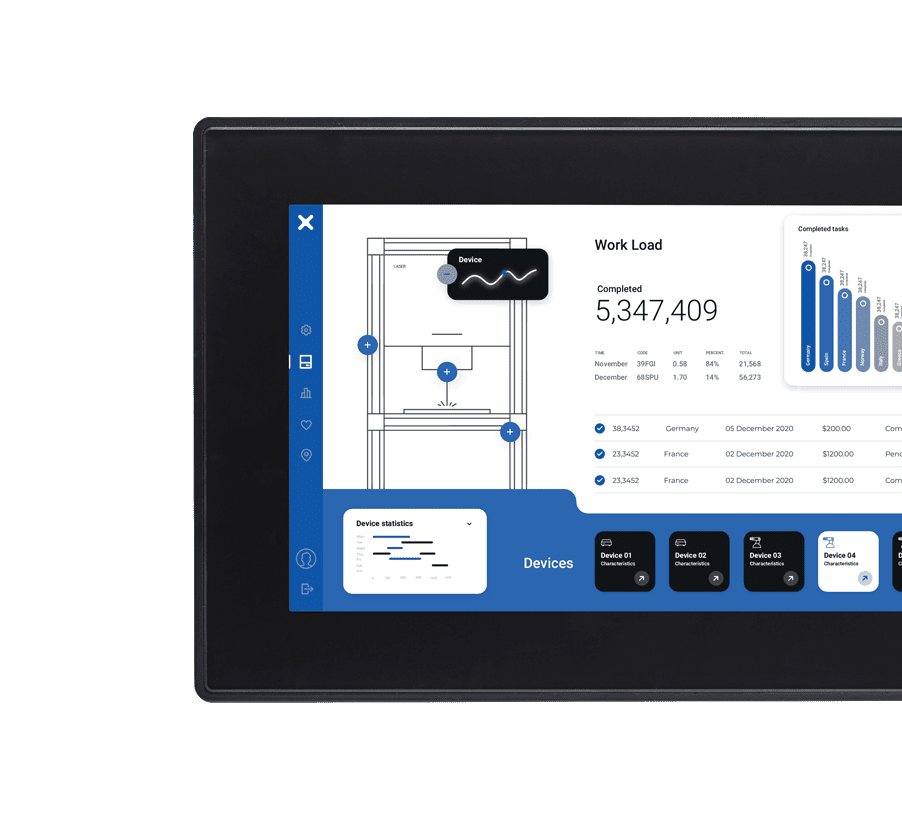 Overview
The glass projected capacitive touchscreen and the brilliant 10 inch widescreen display with resolution of 1280x800 guarantee great optical performance; with the support of multitouch gesture programming they can create the most natural human interfaces.
eX710M Web HMI include a Chromium based HTML5 browser supporting kiosk mode operation. Supports Corvina secure connectivity with full network separation.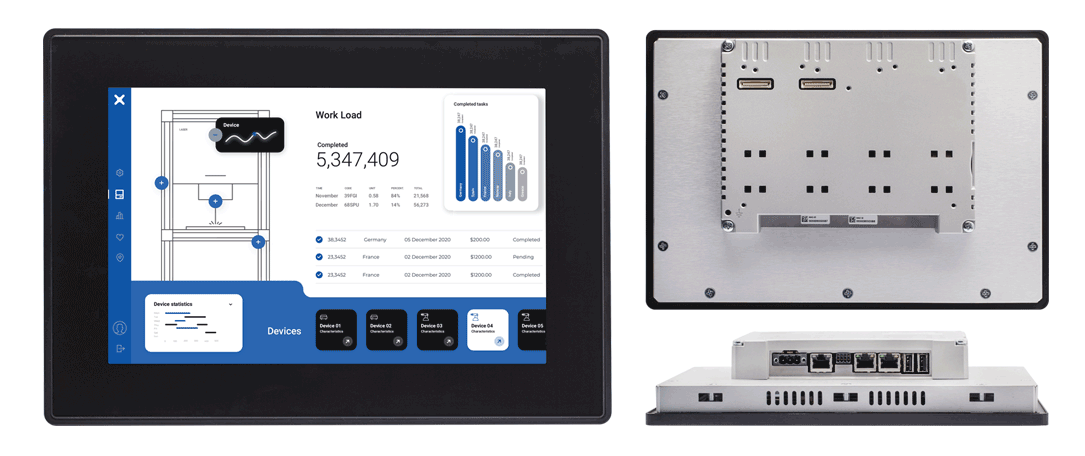 Chromium based HTML5 Browser
Easy to use browser setting application
10 inch color display, resolution 1280x800 pixel
Dimmable LED backlight
Projected capacitive touchscreen. True glass design.
Multitouch operation
Operating Temperature -20°C to +60°C
IECEx, ATEX, DNV-GL, cULus, cULus: Class 1 Div 2
Accessories
System Resources
Display - Colors
10.1" TFT 16:9 LED - 16M
Resolution
1280x800 WXGA
Brightness
500 cd/m2
Dimming
Yes
Touchscreen
True Glass Projected Capacitive, Multitouch
CPU
64-bit RISC quad core - 1.6 GHz
Operating System
Linux
Flash
8 GB
RAM
2 GB
RT-Clock, RTCBack-up, Buzzer
Yes
Interface
Ethernet port
3 (port 0 - 10/100/1000, port 1 - 10/100, port 2 - 10/100)
USB port
2 (Host V2.0, max. 500 mA)
Serial port
1 (RS-232, RS-485, RS-422, software configurable). Max 3 serial ports using plug-in modules.
SD card
Yes
Expansion
2 slot for plug in modules
Ratings
Power supply
24 Vdc (10 to 32 Vdc)
Current Consumption
1.0 A at 24 Vdc (max.)
Input Protection
Electronic
Battery
Rechargeable Lithium battery, not user-replaceable
Environment Conditions
Operating Temperature
-20° to +60 °C (vertical installation). Plug-in and USB devices may limit max temperature to +50 °C
Storage Temperature
-20°C to +70°C
Operating / Storage Humidity
5-85% RH, non condensing
Protection Class
IP66 (front), IP20 (rear) - Type: 12, 4X
Dimensions and Weights
Faceplate LxH
282x197 mm (11.10x7.80)
Cutout AxB
271x186 mm (10.67x7.32)
Depth D+T
56+8 mm (2.20+0.33)
Weight
2.5 Kg
Approvals
CE
Electromagnetic Compatibility Directive 2014/30/EU (EMC)
ATEX
Zone 2/22: II 3 G Ex ec IIC T5…T4 Gc, II 3 D Ex tc IIIC T95°C Dc | -20°C ≤ Tamb ≤ +60°C or 0°C ≤ Tamb ≤ +50°C
IECEx
Zone 2/22: Ex ec IIC T5…T4 Gc, Ex tc IIIC T95°C Dc | -20°C ≤ Tamb ≤ +60°C or 0°C ≤ Tamb ≤ +50°C
UL
cULus: UL61010-1 / UL61010-2-201
UL
cULus: Class 1 Div 2
DNV
Yes
RCM
Yes
Part Number and Description
+EX710MU5PW

Web HMI 10" TFT, 1280x800, PCAP Touch, 8 GB Flash Memory, 3x Ethernet, Web browser