The industrial HMI eX705 is the ultimate all-in-one solution ready for scalable applications across many industries.
This industrial automation device offer super high performance, high resolution glass PCAP touch, fully connectable upstream and downstream, powerful integrated PLC with all the major protocols, Integrated VPN with service cloud, with up to a 5 year warranty.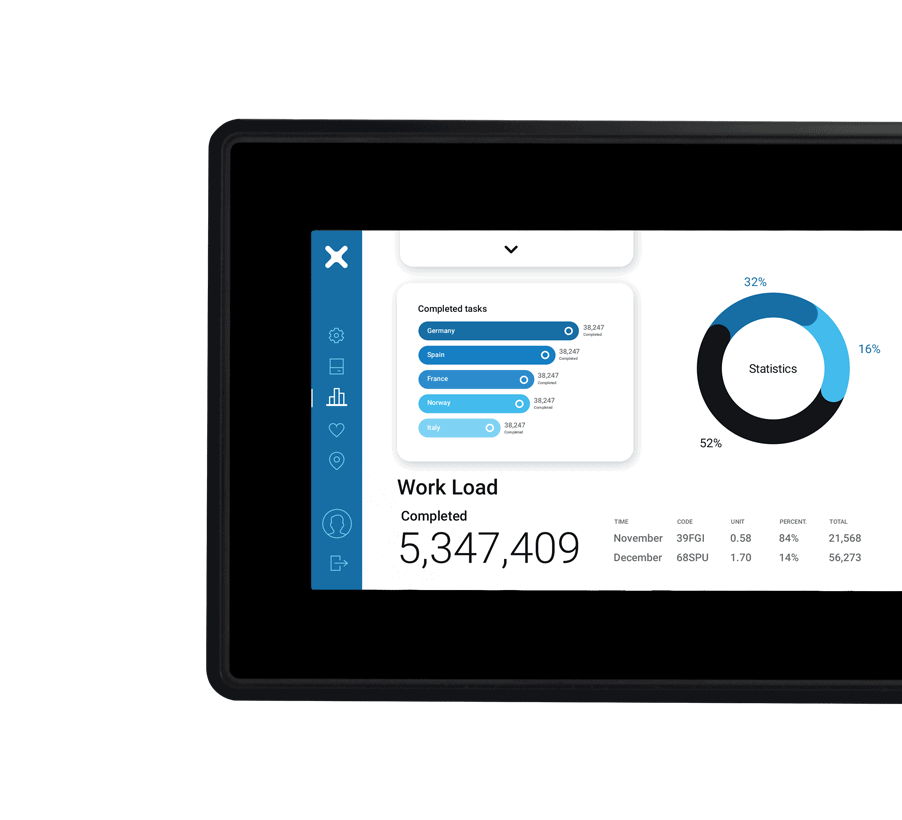 Overview
A beautiful product, created within the X Platform and hence with an unsurpassed ability to offer access and scalability into Industry 4.0. The tremendous technical flexibility is backed by a company with 45 years in the industry and still with a market price at previous models.
The eX700 Series represents a ground breaking product to come to market:
The Revolutionary IIoT Controller.
The product's concept permits a prudent investment into the implementation of IIoT and hence Industry 4.0 compatibility.As such it provides a true all-in-one solution covering many functions such as:
• As a powerful Browser with industry standard Web engine powering state of the art Chromium browser
• As a Gateway with up to 3 Ethernet networks, OPC UA pub/sub* Server and Client, future TSN* connectivity and multiple protocols
• As a powerful HMI using JMobile inside with multitouch operation in a brilliant high resolution display
• As a PLC with the CODESYS V3 can function as Master through major protocols
*Roadmap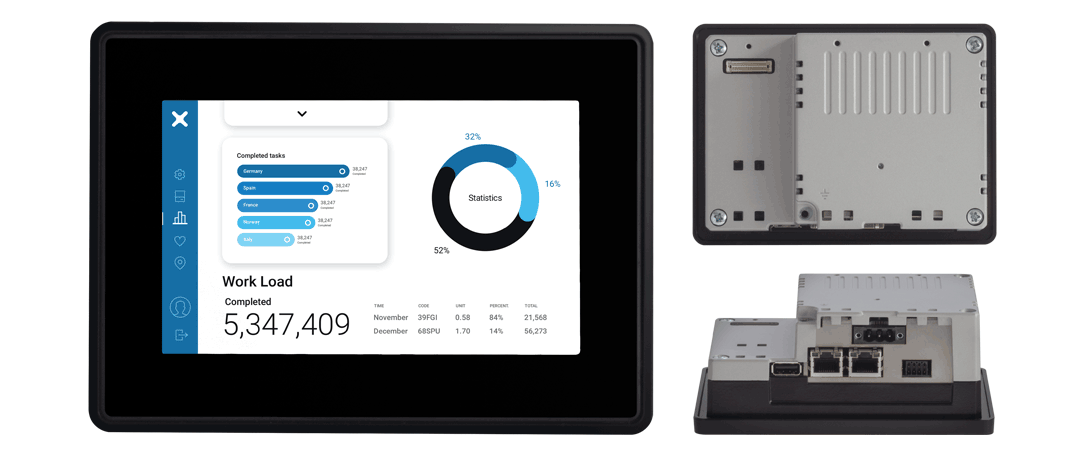 Created Within the X Platform
Industry 4.0 Product Concept
HW and FW Optimised for Extremely Fast Operation
System and Project Rapid Boot-Up
OS Linux RT
JMobile – the software that powers the X Platform
CODESYS V3 with Ethernet I/O Stacks
Multitouch and Gesturing
Brilliant Display
Wide Angle Visibility
Beautiful 16,000,000 Colors
Resistant to Scratches, UV and Chemicals
Total Glass Design
Networks with different IP addresses
Plug in Modules for System Expansion
Accessories
System Resources
Display – Colors
5" TFT 16:9 LED – 64K
Resolution
800×480, WVGA
Dimming
to 0%
Brightness
300 Cd/m2 typ.
Touchscreen
True Glass Projected Capacitive, Multitouch
CPU
32-bit RISC single core - 1 GHz
Operating System
Linux RT
Flash
4 GB
RAM
512 MB
Real Time Clock, RTC Back-up, Buzzer
Yes
Interface
Ethernet port
2 (port 0 – 10/100, port 1 – 10/100)
USB port
1 (Host V2.0, max. 500 mA)
Serial port
1 (RS-232, RS-485, RS-422, software configurable) Max 2 serial ports using plug-in modules.
SD card
Yes
Expansion
1 slot for plug in modules
Ratings
Power supply
24 Vdc ( 10 to 32 Vdc )
Current Consumption
0.6 A at 24 Vdc (max.)
Input Protection
Electronic
Battery
Rechargeable Lithium battery, not user-replaceable
Environment Conditions
Operating Temp
-20° to +60 °C (vertical installation) Plug-in modules and USB devices may limit max temperature to +50 °C
Storage Temp
-20°C to +70°C
Operating / Storage Humidity
5-85% RH, non condensing
Protection Class
IP66 (front), IP20 (rear)
Dimensions and Weights
Faceplate LxH
147×107 mm (5.78×4.21″)
Cutout AxB
136×96 mm (5.35×3.78″)
Depth D+T
52+8 mm (2.40+0.31")
Weight
1.3 Kg
Approvals
CE
Electromagnetic Compatibility Directive 2014/30/EU (EMC)
ATEX
Zone 2/22: II 3 G Ex ec IIC T5…T4 Gc, II 3 D Ex tc IIIC T95°C Dc | -20°C ≤ Tamb ≤ +60°C or 0°C ≤ Tamb ≤ +50°C
IECEx
Zone 2/22: Ex ec IIC T5…T4 Gc, Ex tc IIIC T95°C Dc | -20°C ≤ Tamb ≤ +60°C or 0°C ≤ Tamb ≤ +50°C
UL
cULus: UL61010-1 / UL61010-2-201
UL
cULus: Class 1 Div 2
DNV-GL
Yes
LR
Yes
EU RO MR
Yes
RCM
Yes
Part Number and Description
+EX705U5P1
HMI 5" TFT 800x480, PCAP Touchscreen, 4 GB Flash Memory, 2x Ethernet Ports, JMobile runtime