The control panel eX710 offer super high performance, glass PCAP multitouch, fully connectable, integrated PLC and up to a 5 year warranty.
Resistant to scratches, UV and chemicals, it has multiple certifications such as IECEX Zone 2/22, ATEX Zone 2/22, UL cULus Class I Div. 2, DNV GL, EU MR, opening dramatically the range of possible applications in industrial, marine and harsh environments.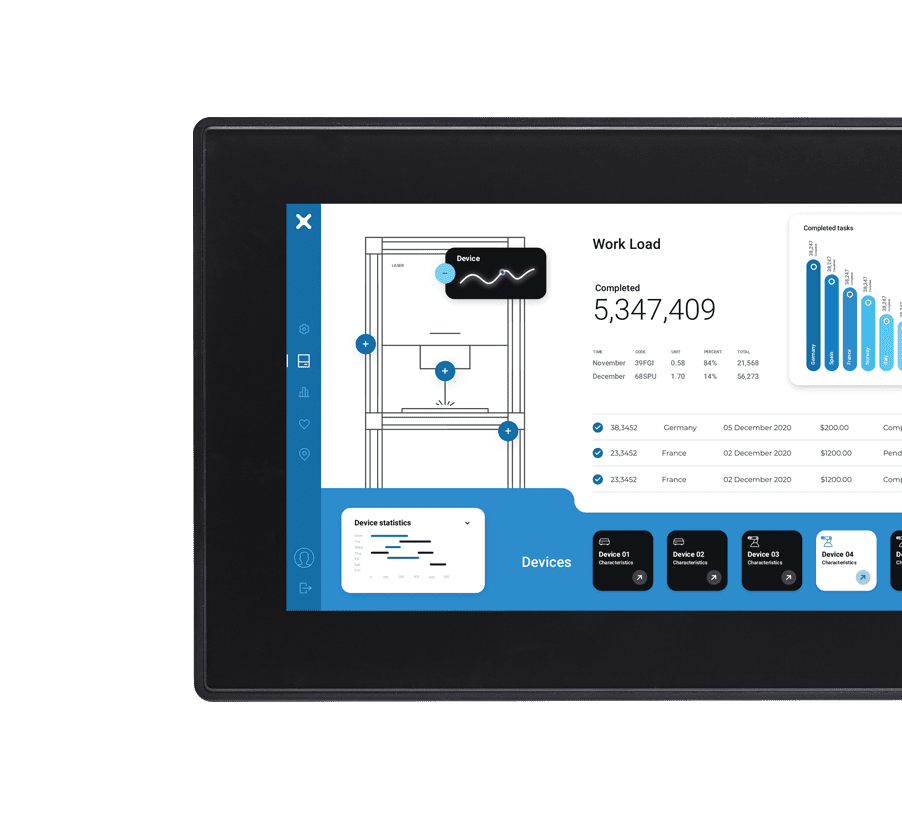 Overview
A beautiful product, created within the X Platform and hence with an unsurpassed ability to offer access and scalability into Industry 4.0. The tremendous technical flexibility is backed by a company with 45 years in the industry and still with a market price at previous models.
The eX700 Series represents a ground breaking product to come to market:
The Revolutionary IIoT Controller.
The product's concept permits a prudent investment into the implementation of IIoT and hence Industry 4.0 compatibility.As such it provides a true all-in-one solution covering many functions such as:
• As a powerful Browser with industry standard Web engine powering state of the art Chromium browser
• As a Gateway with up to 3 Ethernet networks, OPC UA pub/sub* Server and Client, future TSN* connectivity and multiple protocols
• As a powerful HMI using JMobile inside with multitouch operation in a brilliant high resolution display
• As a PLC with the CODESYS V3 can function as Master through major protocols
*Roadmap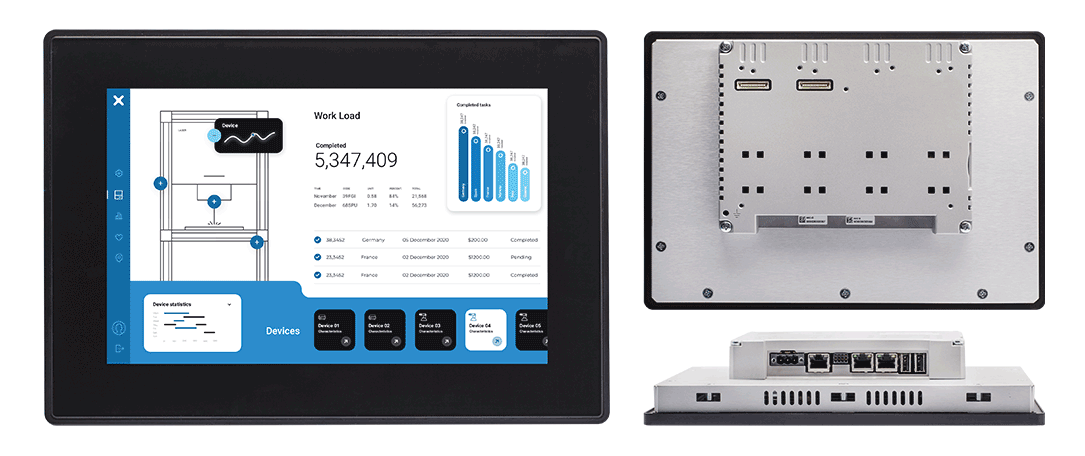 Created Within the X Platform
Industry 4.0 Product Concept
HW and FW Optimised for Extremely Fast Operation
System and Project Rapid Boot-Up
OS Linux RT
JMobile – the software that powers the X Platform
CODESYS V3 with Ethernet I/O Stacks
Multitouch and Gesturing
Brilliant 2,100,000 pixel Display
Wide Angle Visibility
Beautiful 16,000,000 Colors
Resistant to Scratches, UV and Chemicals
Total Glass Design
Network Separation possibile via Up to 3 Ethernet
Networks with different IP addresses
Plug in Modules for System Expansion
Accessories
System Resources
Display – Colors
10.1″ TFT 16:9 LED – 16M
Resolution
1280×800, WXGA
Dimming
to 0%
Brightness
500 Cd/m2 typ.
Touchscreen
True Glass Projected Capacitive, Multitouch
CPU

32-bit RISC dual core - 800 MHz

Operating System
Linux RT
Flash
4 GB
RAM
1 GB
Real Time Clock, RTC Back-up, Buzzer
Yes
Interface
Ethernet port
3 (port 0 – 10/100/1000, port 1 – 10/100, port 2 – 10/100)
USB port
2 (Host V2.0, max. 500 mA)
Serial port
1 (RS-232, RS-485, RS-422, software configurable) Max 3 serial ports using plug-in modules.
SD card
Yes
Expansion
2 slots for plug in modules
Ratings
Power supply
24 Vdc ( 10 to 32 Vdc )
Current Consumption
1.0 A at 24 Vdc (max.)
Input Protection
Electronic
Battery
Rechargeable Lithium battery, not user-replaceable
Environment Conditions
Operating Temp
-20° to +60 °C (vertical installation) Plug-in modules and USB devices may limit max temperature to +50 °C
Storage Temp
-20°C to +70°C
Operating / Storage Humidity
5-85% RH, non condensing
Protection Class
IP66 (front), IP20 (rear)
Dimensions and Weights
Faceplate LxH
282x197 mm (11.10x7.80")
Cutout AxB
271×186 mm (10.67×7.32″)
Depth
56+8 mm (2.20+0.33")
Weight
2.5 Kg
Approvals
CE
Electromagnetic Compatibility Directive 2014/30/EU (EMC)
ATEX
Zone 2/22: II 3 G Ex ec IIC T5…T4 Gc, II 3 D Ex tc IIIC T95°C Dc | -20°C ≤ Tamb ≤ +60°C or 0°C ≤ Tamb ≤ +50°C
IECEx
Zone 2/22: Ex ec IIC T5…T4 Gc, Ex tc IIIC T95°C Dc | -20°C ≤ Tamb ≤ +60°C or 0°C ≤ Tamb ≤ +50°C
UL
cULus: UL61010-1 / UL61010-2-201
UL
cULus: Class 1 Div 2
DNV-GL
Yes
LR
Yes
EU RO MR
Yes
RCM
Yes
Part Number and Description
+EX710U5P1
HMI 10.1" TFT 1280x800, PCAP Touchscreen, 4 GB Flash memory, 3x Ethernet ports, JMobile runtime