Recent trends in various sectors towards ultra wide HMIs have altered the markets perception of touch panels. With data arriving from many locations these screens allow the user to see and absorb vast qualities of information.
EXOR International has decided to bring this usability to the industrial world with the new eX712 Ultra wide.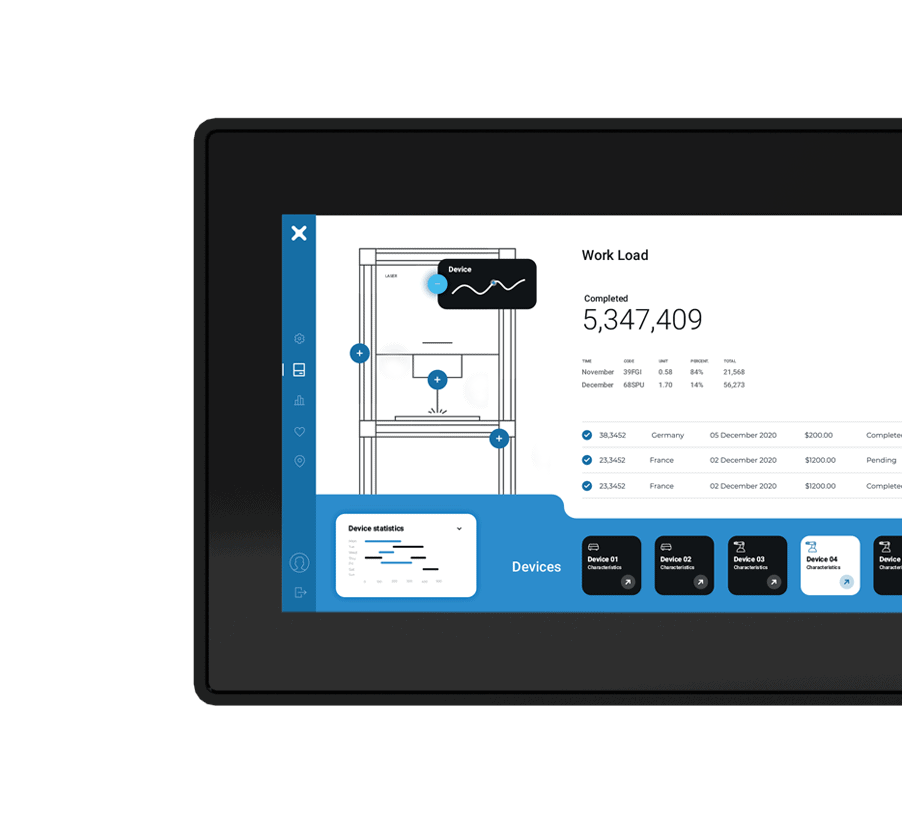 Overview
Building upon the successful eX700 series family and incorporating the scalability of the X Platform, this new HMI design opens up many user cases at the machine level. The ultra wide screen format is more intuitive for information to be transmitted and hence reduces human error which continue to account for 70% of all industrial incidents.
A beautiful product, created within the X Platform and hence with an unsurpassed ability to offer access and scalability into Industry 4.0. The tremendous technical flexibility is backed by a company with 45 years in the industry and still with a market price at previous models.
The eX700 Series represents a ground breaking product to come to market:
The Revolutionary IIoT Controller.
The product's concept permits a prudent investment into the implementation of IIoT and hence Industry 4.0 compatibility.As such it provides a true all-in-one solution covering many functions such as:
• As a powerful Browser with industry standard Web engine powering state of the art Chromium browser
• As a Gateway with up to 3 Ethernet networks, OPC UA pub/sub* Server and Client, future TSN* connectivity and multiple protocols
• As a powerful HMI using JMobile inside with multitouch operation in a brilliant high resolution display
• As a PLC with the CODESYS V3 can function as Master through major protocols
*Roadmap 2022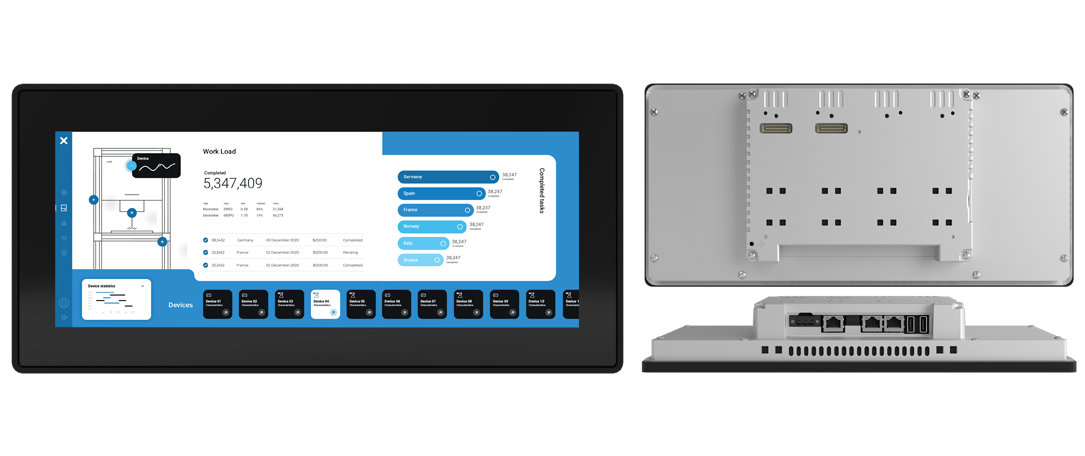 Resolution 1920x720 (24:9)
Ideal for presenting multiple context on screen
Created Within the X Platform
Industry 4.0 Product Concept
HW and FW Optimised for Extremely Fast Operation
System and Project Rapid Boot-Up
OS Linux RT
JMobile – the software that powers the X Platform
CODESYS V3 with Ethernet I/O Stacks
Multitouch and Gesturing
Brilliant Display
Wide Angle Visibility
Beautiful 16,000,000 Colors
Resistant to Scratches, UV and Chemicals
Total Glass Design
Networks with different IP addresses
Plug in Modules for System Expansion
Accessories
| | |
| --- | --- |
| System Resources | |
| Display - Colors | 12,3" TFT LED - 16M |
| Resolution | 1920x720, HD |
| Brightness | 600 Cd/m2 typ. |
| Dimming | to 0% |
| Touchscreen | True Glass Projected Capacitive, Multitouch |
| CPU | 32-bit RISC quad core - 800 MHz |
| Operating System | Linux RT |
| Flash | 8 GB |
| RAM | 2 GB |
| Real Time Clock, RTC Back-up, Buzzer | Yes |
| Interface | |
| Ethernet port | 3 (port 0 - 10/100/1000, port 1 - 10/100, port 2 - 10/100) |
| USB port | 2 (Host V2.0, max. 500 mA) |
| Serial port | 1 (RS-232, RS-485, RS-422, software configurable) Max 3 serial ports using plug-in modules. |
| SD card | Yes |
| Expansion | 2 slot for plug in modules |
| Ratings | |
| Power supply | 24 Vdc (10 to 32 Vdc) |
| Current Consumption | 1.1 A at 24 Vdc (max.) |
| Input Protection | Electronic |
| Battery | Rechargeable Lithium battery, not user-replaceable |
| Environment Conditions | |
| Operating Temp | -20° to +60 °C (vertical installation) Plug-in modules and USB devices may limit max temperature to +50 °C |
| Storage Temp | -20°C to +70°C |
| Operating / Storage Humidity | 5-85% RH, non condensing |
| Protection Class | IP66 (front), IP20 (rear) Type: 12, 4X |
| Dimensions and Weights | |
| Faceplate LxH | 344.5x163 mm (13.56x6.41") |
| Cutout AxB | 332.5x152 mm (13.09x5.94") |
| Depth D+T | 49+8.5 mm |
| Weight | 1.8 Kg |
| Approvals | |
| CE | Electromagnetic Compatibility Directive 2014/30/EU (EMC) |
| ATEX | Zone 2/22: II 3 G Ex ec IIC T5…T4 Gc, II 3 D Ex tc IIIC T95°C Dc | -20°C ≤ Tamb ≤ +60°C or 0°C ≤ Tamb ≤ +50°C |
| IECEx | Zone 2/22: Ex ec IIC T5…T4 Gc, Ex tc IIIC T95°C Dc | -20°C ≤ Tamb ≤ +60°C or 0°C ≤ Tamb ≤ +50°C |
| UL | cULus: UL61010-1 / UL61010-2-201 |
| UL | cULus: Class 1 Div 2 |
| DNV-GL | Yes |
| RCM | Yes |
Part Number and Description
+EX712U5P1
HMI 12.3" TFT 1920x720, PCAP Touchscreen, 8 GB Flash memory, 3x Ethernet ports, JMobile runtime