microSOM uS05 Intel FPGA now support new Time-Sensitive Networking (TSN) mechanisms.
Devices using this product have successfully completed interoperability tests in the renowned Industrial Internet Consortium TSN testbed.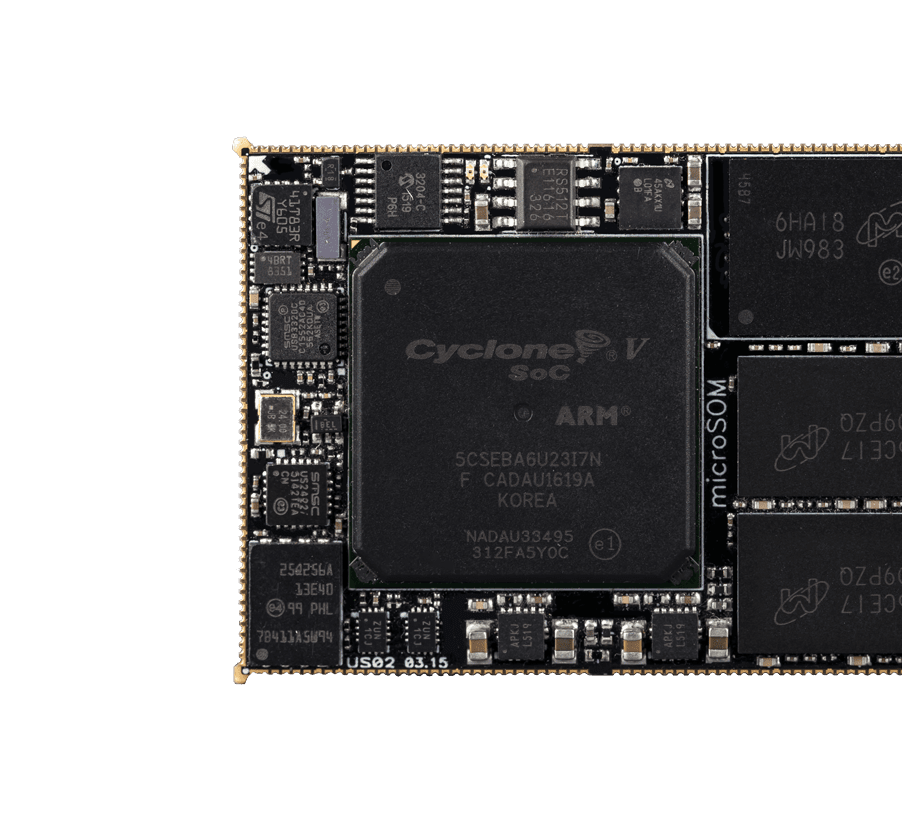 Overview
After being deeply involved in the specification of the IEEE TSN standards, Exor is now leading the way in bringing TSN
products to market. Edge IP Solution provides TSN switched endpoint functionality for FPGA based devices. Designed for quick and easy FPGA integration, the product is ideal for innovative switch, Controller, PLC or IPC vendors.
microSOM uS05 now supports the IEEE 802.1Qbv, IEEE 802.1AS, IEEE 802.1Qcc and IEEE 802.1Qbu standards. The package also provides all of the requisite Linux-based software drivers and stacks. The supported TSN mechanisms enable time-synchronization across devices in the network and allow for scheduled forwarding of messages or preemption of large packets at egress.
The microSOM is soldered directly into the main carrier board without the use of expensive connectors that will reduce reliability of the system.
With only 46x35x4 mm in height microSOM allows you to design products extremely compact and ultra-slim.
The microSOM requires a single supply of 3.3 V with low power consumption (Max 0,9 Amp 110K LE)
It provides the ultimate combination of hardened intellectual property (IP) for performance and power savings, but with the great flexibility assured by FPGA, that, together with a rich library of IP cores allows to configure different products.
A Powerfull Video Controller and OpenHMI software enable to design a User-friendly and high quality vectorial graphic (SVG) rich-graphical GUI and assure a device connectivity with suite of +200 communication protocols.
Optional IEC 61131-3 CODESYS 3.x for Control I/O and Motion control.
Linux RTOS solution (OSADL)
3 Ports TSN Ethernet Switch support for the IEEE 802.1Qbv, IEEE 802.1AS, IEEE 802.1Qcc and IEEE 802.1Qbu standards
Linux-based software drivers and stacks. IEEE standard 1588 support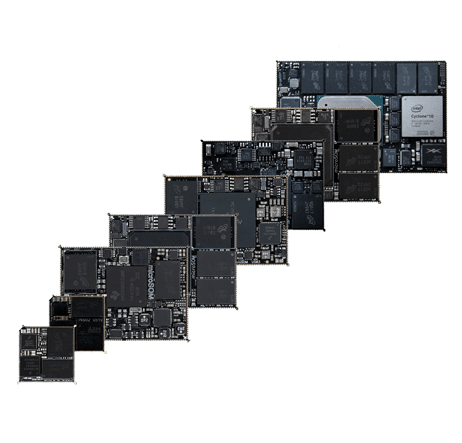 Downloads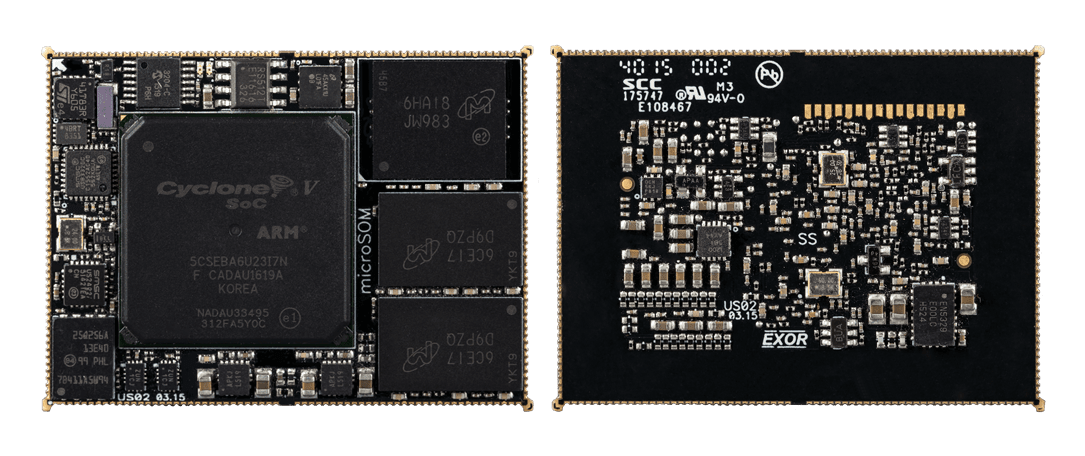 Basic Component of the X Platform
Guaranteed Minimum 10 year Product Life Cycle
Reduced Time to Market for Customized Products
Backed by a partner that can cover the design and supply chain
Essential Basic Component of IIoT Implementation
Powerful IIoT engine across all "Industrie 4.0" levels
OPC UA pub/sub over TSN, MQTT and AMQT
IIoT Gateway and Logic control
Vast Protocol Library
At the Edge Analytics
Fog Node Compatibility
Optional CODESYS v3
Distributed micro-Server
Quad Core ARM
Linux BSP rt (OSADL) or Android BSP
Tech Data
Dimensions
46x35 mm
Temperature Range
-40°C to +85°C
CPU
Intel 5CSEBA6 Dual ARM Cortex - A9 925 MHz, Integrated with FPGA 110 KLE
DDR
1 Gbyte DDR3
Flash Disk / QSPI
4 GByte eMMC / 256 Mbits
EEPROM
4 Kbits
FRAM
64-Kbytes
Watchdog/RTC/Voltage monitor/JTAG
Yes
USB
2 (Host V2.0) or 1 (OTG)
Ethernet
4 (RGMII 10/100/1000 Mb Ethernet MAC)
TSN
3 Ports Ethernet TSN Switch (RGMII)
SD
1
Serial Port
3
SPI
2
I2C
1
CAN
2
Video
1 (Video Out Controller 16 Bit)
Analog Input
5
GPIO
Several GPIO available depending of FPGA configuration, 2 LVDS I/O with 5 lanes each
Software configurable. Not all selections can be combined
Part Number and Description
+US05-0001
Cyclone V SoC - 110 KLE - 1GB DDR3 - 4 GB Flash Disk - TSN Support - Operat. Temp. -40 to +85°C
+US05-0002
Cyclone V SoC - 110 KLE - 1GB DDR3 - 4 GB Flash Disk - Operat. Temp. -40 to +85°C
+EE16EK-0008
microSOM uS05 Development Kit